Originally published on Project NOSH
Written by Carol Ortenberg
---
The food industry only had to wait less than a week to find out what life after Siggi's looks like for its former CEO, Bart Adlam.
Meat snack brand Chef's Cut announced today that Adlam will assume the role of CEO as it looks to enter new retail channels. Adlam succeeds Bart Silvestro, who has been with the company for 3 1/2 years. Silvestro will temporarily remain on as a consultant in order to assure a smooth leadership transition.
Chef's Cut has grown from $1.4 million in sales to $47 million during Silvestri's tenure. The brand has received investment from CAVU and Halen Brands (an investment vehicle of Clearlake Capital). Halen Brands CEO and co-founder Jason Cohen disclosed to NOSH that due to this growth, CAVU and Halen Brands invested another $8 million in Chef's Cut during the first quarter of the year.
"Part of [the investment] was to continue to sustain the company's rapid growth and part of it was to invest in people and infrastructure," Cohen told NOSH. "We're very bullish on the brand… and we wanted to bring in a CEO who could continue to grow it sustainably."
Adlam told NOSH that he is excited to work with the Chef's Cut team as well as have Halen and CAVU as investor partners. Like Siggis's, which under Adlam's command sold to Lactalis in January, Chef's Cut positions itself as a premium alternative within its category.
"I think the product was a major strength with Siggi's and the same is true for Chef's Cut," Adlam said. "Siggi's was a bit more nascent and underdeveloped [when I joined] and Chef's Cut is a bit more developed, which means there's more to work with, but less of a clean slate."
Adlam told NOSH that he plans to start his tenure by learning more about the company's sales strategy and innovation pipeline. While grocery and club are solid retail channels for the brand, it's currently not as strong in the natural channel — Whole Foods Market's recent jerky reset did not include the brand. There's also room to grow in convenience as well, Adlam said.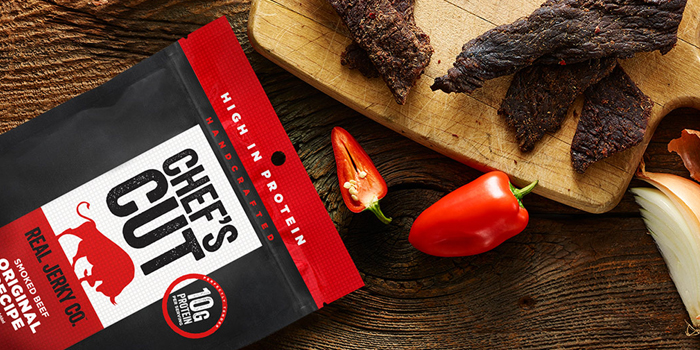 Part of Adlam's role will be to determine where the company can see more success and, potentially, eliminate brand aspects or products that are holding it back.
"My playbook has been to have my ears open and see what's in the portfolio, what's going on in the business, and what's core to the success. And then going forward, let's drill down to those areas and really drive them," Adlam said. "It's up to me to make sure that as a brand and a business we have focus."
But does the presence of a new CEO coming off a successful exit indicate that Chef's Cut may be seeking the same path? Potentially, Cohen told NOSH.
"We're obviously investors who like to realize on our investment," he said. "So without any rush, we brought Bart on to see where this might take us in the next two to three years. The brand over the last year has been getting interest from a number of strategic players, and from our perspective, we want to make sure that we've got a strong leadership on top."