Originally published on Project NOSH
---
To give consumers a boost in their kitchens, food brand BOU announced today the close of a $4 million round of funding.
BOU currently produces a line of better-for-you bouillon cubes, a line of gravy cubes and a line of four instant soup cups that utilize the bouillon cubes. It's products are sold in 5,000 retailers including Whole Foods, Sprouts, Safeway/Albertson's, Wegmans and more.
An undisclosed family office invested $1.5 million, according to Jakobi, who also took part in the round himself. Other investors in the round were Andy Gellert, president of importer The Gellert Global Group, Shelly Stein, president of Southern Glazer's Wine and Spirits, the FounderMade Fund, Jon Keidan, founder of VC firm Torch Capital and Nebari Ventures (where Jakobi also serves as an advisor).
Previously the company closed a convertible note of $800,000 in early 2017 as well as a $2 million round earlier this year.
Founder Jakobi previously was the former CEO and co-owner of successful UK brands Metcalfe's skinny and Metcalfe's Food Company.
The capital will go towards hiring — Jakobi hopes to double headcount to 12 employees over the next year — new product development and marketing. The latter, Jakobi said, has become more important as the brand has shifted from only producing bouillon and gravy cubes to selling soup cups as well. The cups are a grab-and-go item, he said, and require more trade spend and marketing due to their competitive set.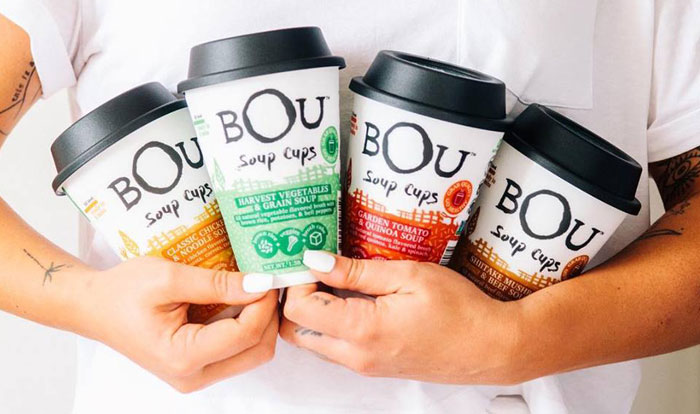 Product development is also key to the company's growth. The bouillon category is highly seasonal, Jakobi said, seeing sales spike in cooler months. BOU is working on developing new bouillon cubes — for example, a spicy flavored cube — that he believes would lend themselves to being used year round.
At Metcalfe's in the UK, Jakobi financed the company through a line of credit. However, he told NOSH, the U.S. market required a different strategy.
"The reason why I decided to raise money over here is that the appetite amongst young entrepreneurs and young businesses is much bigger here in the U.S. then the UK," Jakobi told NOSH. "You've got this whole VC world here, the PE world here — there's just so much money."
Despite the change in strategy, Jakobi expects BOU will have a similar outcome as he had with Metcalfe's — a sale to strategic buyer — in the next few years. Although his focus is on BOU, that means thinking for what may lie ahead. Jakobi told NOSH he plans to open an investment fund for food and beverage companies once that exit occurs.
"It takes a long time to launch a new business — whether it's a fund or a new brand — so I'm thinking ahead," Jakobi said. "I'm not going to lose focus, but when you are a serial entrepreneur, I think you're able to multitask and you're able to think about different things and that's what I'm doing while focusing on BOU."