It seems that the founder of Spanx, a WBNA gold medalist, an owner in the Atlanta Hawks, and a judge on NBC's The Voice all share a sweet tooth.
Frozen novelty brand Chloe's Fruit announced today the close of the final $3 million of a $9.3 million series B round of funding. Leading the round was a varied group of individuals including serial entrepreneurs Jesse Itzler and Sara Blakely, former Maple Leaf Foods COO Richard Lan, global business development leader Tony Owen, FOCUS brands president Kat Cole, Viacom CFO Wade Davis, Grammy award winner Adam Levine and WNBA player Maya Moore.
The round, which was initially opened and closed several years ago, brings the company's total funding to roughly $13 million from approximately 65 investors. Chloe's co-founder and CEO Michael Sloan told NOSH that the company looked for investment from individuals that could provide guidance to the growing company.
"A lot of our investors are institutional investors who invested personally… they're not investing through their [funds]," Sloan said. "Our view is that it gives us a leg up. Each of them has a strategic advantage and a way that they are able to help us add value."
Chloe's will use the capital, in part, to further deepen its sales and marketing efforts in the highly competitive frozen novelty category. Since launching into retail in 2014, the company has grown to be sold in roughly 10,000 doors in retailers including Publix, Albertsons, Kroger, Costco, Wegmans, HEB and Harris Teeter. Originally formed as a franchise of soft serve ice cream shops, the company pivoted in 2014 to its current real fruit-based popsicle offering and sold all stores except for one Manhattan location which acts as a base for the company's catering business as well as a marketing tool and R&D facility.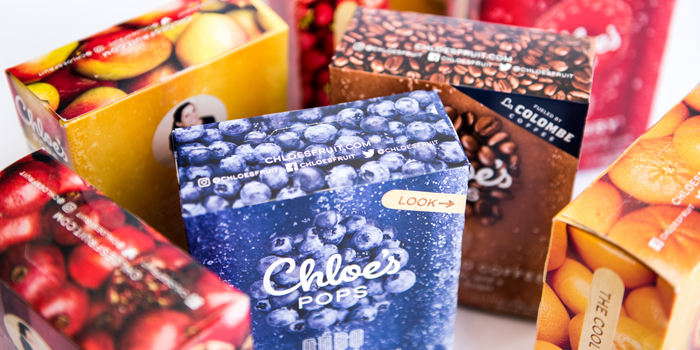 The company currently has nine SKUs — with its two most recent releases a blueberry popsicle and a cold brew popsicle made in partnership with La Colombe. Both also were inspired by the time the company spent in the second class of the Chobani incubator program.
In 2019 the company plans to deviate from its current 2.5 oz. popsicle for the first time with two new offerings. The first, a chocolate covered popsicle, is what Sloan calls a "permissible indulgence," while the second, a smaller, 1.5 oz. popsicle, is designed to cater to younger consumers.
Sloan told NOSH that the company always plans to stay within the frozen novelty space.
"We for us, we're looking for efficiencies. We want efficiencies in our production, in our shipping, in our storage and in our shipping to retailers. So if it isn't on the same pallet, there's no efficiency from that," Sloan said. "Just like Chobani has been disrupting the yogurt category, we're trying to do the same thing in the novelty set."
Part of this disruption — and a play from the Chobani handbook – is pricing Chloe's closer to its conventional competition at $3.99 to $4.99. The hope is by pricing lower, and using to unique, clean ingredients, Chloe's can not only drive trial but also nspire repeat purchasing. Sloan told NOSH that recent data showed 40 percent of Chloe's consumers are new to the novelty category.
"Until you try Chloe's, you don't really get the difference," Sloan said. "All of our big CPG competitors are trying to remove things from their products to make it look more like Chloe's… what we're seeing is a real shift towards Chloe's [value proposition] which is a validation of our of our whole reason for being."
The Giannuzzi Group acted as legal counsel to Chloe's.