---
Can bone broth be the next kombucha? Investment group CAVU Venture Partners thinks so. The fund announced today an $8 million series A investment in upstart bone broth brand, Kettle and Fire. As part of the deal, CAVU co-founder and managing partner Clayton Christopher will join the company's board. The three year old company was previously funded via a small — under $1 million — investment by an angel group in late 2016.
Kettle and Fire began when Justin Mares, a paleo-diet devotee, tried to convince his brother, Nick, who had suffered a massive knee injury, to start drinking bone broth as part of his healing process. The two said they quickly tired of making broth at home and looked for a shelf-stable option, only to find that one didn't exist.
Fast forward three years to 2018 and Kettle and Fire is sold in Wegmans, Whole Foods Market, Thrive Market, HEB and Sprouts, among other retailers. The company, Justin Mares said, has more than tripled sales every year and in 2018 will do over $20 million in sales. Kettle and Fire's portfolio now includes three bone broths, four bone broth-based soups and a chili — all shelf-stable and sold in tetra pack boxes.
Christopher, who has been speaking with the Mares for years, told NOSH that the firm was excited by what the future could hold for the young brand. While bone broth is already a promising category, Christopher believes it speaks to a larger functional food trend that is only just starting.
"What we've seen is that consumers have gone from demanding better-for-you to demanding good-for-you,' Christopher said. "They want products that are great tasting, but they want products with high functionality… Ten years ago people weren't really thinking about gut health at all and no one knew what a probiotic was. You look at it now, and its mainstream."
The Mares told NOSH that they were excited by CAVU's reputation in the industry for working with emerging functional food brands. The hope, Justin Mares said, is to position bone broth as a functional beverage, much like CAVU portfolio brands Vital Proteins, Health Ade, Bulletproof and Rebbl.
"We've found from our customers that a lot of them are drinking bone broth," Justin Mares said. "So as part of that we are interested in moving more down the route of what does it look like to actually make bone broth a thing that people drink multiple times a week."
Nick Mares added that although the company didn't have to take investment right now, investment allows the company to have more working capital as it has been out of stock a few times in the last year due to an inability to meet demand. Justin Mares added that roughly 70 percent of the investment will go towards marketing: demos, possibly pop-up broth and soup shops and more content creation around what makes Kettle and Fire unique.
The education and marketing components may prove to be tricky. Both the Mares and Christopher said that the bone broth space is highly fragmented with brands in frozen cases, refrigerated coolers and center store aisles. There also is no regulation around the term "bone broth" so while Kettle and Fire uses actual bones and long cook times, other brands may not be doing the same.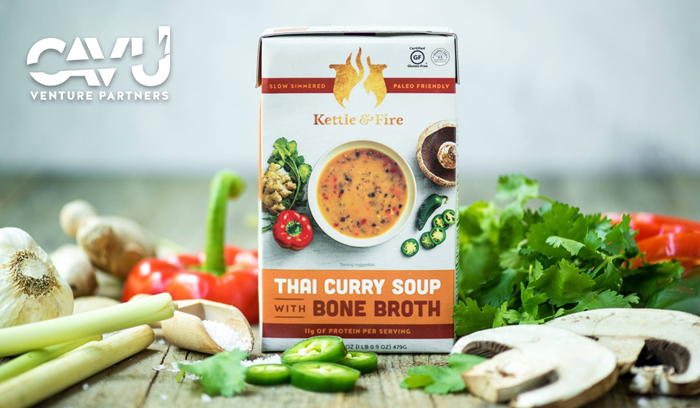 The brothers believe though that being shelf stable gives them several advantages in reaching consumers. Retailers, they say, can stock it in multiple places and on traditional promotional displays such as end caps. Additionally, the brand also is able to do easier demos.
Beyond brick and mortar stores, because Kettle and Fire can be shipped easier — and cheaper — then chilled products, the brand has a thriving direct-to-consumer business. Justin Mares told NOSH that roughly half of the company's sales are online, with 95 percent of those sales through the brand's own website. Another hallmark of CAVU investments, Christopher said, is increasingly company's ability to connect with consumers online and fulfill orders from their own website.
"The holy grail for any brand is having a direct relationship with the consumer. We love our retail partners, we love our distributor partners, but … really, they are a step between us and the consumer," Christopher said. "Not that retail won't be critically important for the brand to grow, but along the way we feel like having that direct relationship is going to allow us to perform even better in retail by education and conversations with consumers."
As the company increases sales — both online and in stores — the Mares said scale will allow the brand to continue to lower prices beyond their current $6.99 price point for broth and $7.99 to $8.99 for soups. When Kettle and Fire first launched, Nick Mares said, the same bone broth product was priced at $11.99.
"We're not trying to be something for everyone," Justin Mares said. "I think we'll see something very akin to a kombucha trajectory where in the early days no one knows what it is, it's expensive and only a select group of people opt into it. And then it becomes more popular and the categories grow and the companies grow and prices drop and become more accessible to everyday people."
The Giannuzzi Group acted as legal counsel to Kettle & Fire.