---
The interest in bone broth brand Kettle & Fire has reached a boil. The line of shelf stable broths and soups has received an additional $8 million, less than two months after announcing a previous $8 million round of funding in August.
The round was led by previous investor CAVU Venture Partners with Rocanà Ventures and strategic individual investors also taking part. While the first $8 million dollar investment will be used to build distribution, marketing and production, this "secondary" investment will provide some liquidity to early investors and employees.
Even with the subsequent investment, CAVU will own less than fifty percent of the company.
CAVU co-founder and managing partner Clayton Christopher told NOSH that the firm had always planned to invest a larger sum into the business, but structured the deal as a two-part investment.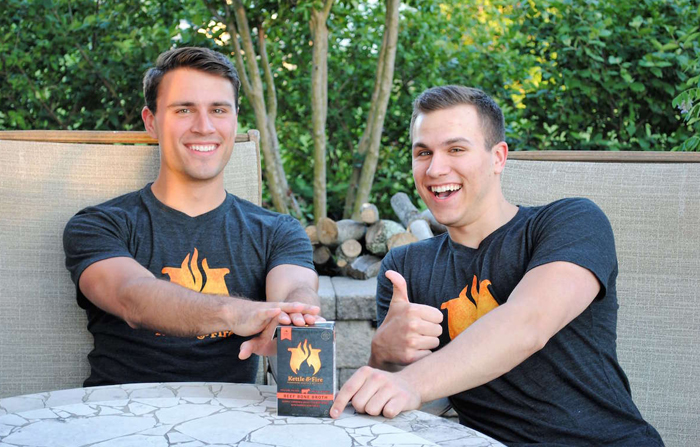 The benefits of working with CAVU have already been felt, Kettle & Fire co-founder Nick Mares told NOSH.
"Partnering with CAVU has been everything we thought it would be. They've been tremendously helpful in developing and fine-tuning our go to market strategy and making strategic hires this year so we can go and execute in 2019," Mares said. "It's been a short but very fruitful partnership so far."
Those strategic hires have included Brian Hack — who previously worked with at Christopher's Sweet Leaf Tea — as CFO, as well as a new SVP of Sales.
While there are plans for new bone-broth innovations in the future, even with the existing product pipeline the brand expects to put up large growth numbers next year. Christopher told NOSH that he expects the brand to double revenue simply by increasing velocities around the broth line and and getting the brand's newly launched soups onto the shelves of existing retailers.
"We get the privilege of seeing some really high performing companies that come across our desk and from some of the deals that we've been lucky enough to be a part of," Christopher said. "We feel [Kettle & Fire] should be a $100 million dollar company in the next two to three years and that's without any innovation. With the innovation we feel like this is a company that's really in the $200 million dollar class of revenue in the coming years, it has that sort of potential."