Courtesy of NOSH.
Plant-based superfood mix brand Your Super announced today the close of a $5 million series A round of funding. Led by PowerPlant Ventures, the round also included Doehler Ventures and several angel investors. The company differentiates itself in the crowded supplement category by both focusing on ingredient sourcing and direct-to-consumer sales.
Founded in 2015, Your Super previously raised $2 million in seed and angel funding. As part of this round, PowerPlant's newest partner, Dan Gluck, will join the company's board of directors.
Your Super has sold 500,000 mixes since its inception, growing 1000 percent in 2018. Founders Kristel de Groot and Michael Kuech told NOSH that they sought funding in order to support this growth and PowerPlant's plant-based focused made the deal even more enticing.
"[PowerPlant's] whole mission is to make plant-based eating more accessible for people, and that's very aligned with us," del Groot said. "For us, it felt like a very natural fit."
Originally founded in Europe, Your Super's mixes are made with of a maximum of five to six ingredients with no added sweeteners. The line can be blended into beverages or used in cooking and for every product purchased, the brand donates a "life-saving whole foods bar" to a malnourished child in need. Each SKU ranges in price from $29.90 to $39.90, an MSRP that the co-founders say is comparable per serving to Amazing Grass or Navitas, while still being more affordable than premium options such as Moon Juice.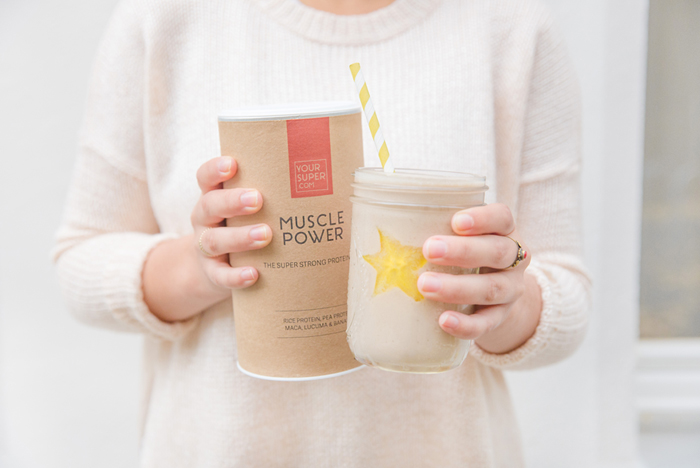 That price point is able to stay lower thanks in part to Your Super's direct-to-consumer strategy. The line is only sold in a handful of stores, with 95 percent of its sales coming from the company's own website. Kuech told NOSH that 60 percent of the brand's customers are not from a "major urban center" — a segment of shoppers that de Groot and Kuech feel have been overlooked.
To connect with this demographic, the company also offers several product bundles ranging in price from $99.90 to $139.90 that include educational guides (such as e-books or online recipe collections), access to a private online support group and 1-on-1 support. In particular, the company found consumers needed assistance with learning how to cook, including basic items like oatmeal. Some of the capital will go towards continuing to create educational content and hire nutrition experts.
"[Our Consumers] get so much more than just products," Kuech said. "The how-to has been missed for so long, by so many brands… people need help in creating these habits."
According to Kuech, by focusing on creating habits, the company can retain customers longer and reduce churn. The company also found that the support of fellow users helped encourage consumers to stick with healthy eating routines that include Your Super's mixes.
"By creating this [online community] people are helping each other, so they don't feel alone," de Groot added. "Just selling a product is not going to result in a change in behavior."
The company plans to spend 2019 doubling down on its current product assortment and sales strategy, continuing to focus on online sales. With that guiding principle, Kuech said, consumer demand will help spark organic growth in retail distribution.
"We want to be that plant-based, go-to brand that people can call," Kuech said.